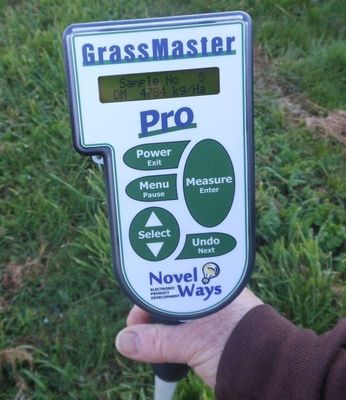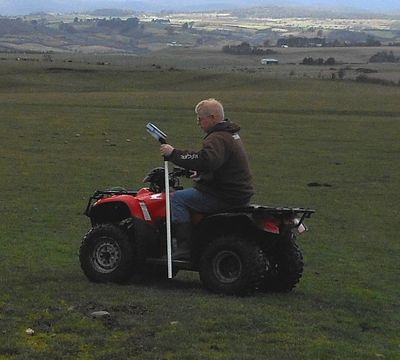 Pasture meter - Grassmaster Pro
$1,980.00
The GrassMaster Pro pasture meter is a superior alternative to conventional pasture rising plate meters. The GrassMaster Pro pasture meter is a single-handed highly accurate and reliable electronic dry matter capacitance meter in the form of a lightweight pasture wand.
The Grass MasterPro records the dry matter (DM) in kg/ha for up to 800 paddocks. It does this using the capacitance method. A low voltage electric field spreads out from the probe into the grass or growing material nearby within a 20cm radius. Changes in this field are strongly related to the water mass (and therefore the dry matter) of the plant material intercepting this field. The meter automatically takes a reading once it has sensed the wand has probed the base of the pasture, and by means of a calibration equation, then calculates the amount of dry matter on a dry matter per ha basis for each probe, and then averages the values for each paddock area being measured in kgDM/ha.
===============================

===============================

Please Note. The Pasture Feed budgeting Spiral Bound hard copy book and accompanying CD of paddock record, feed wedge and pasture forecast feed budgeting spread sheet templates plus e-book copy of the book are bundled free of charge with every GrassMaster purchase
Capacitance measurement means pasture density as well as pasture height are both measured
accounted for and measured by the calibration equation, irrespectiveof pasture variations within or between paddocks. Falling plate meter, and light-beam systems struggle to measure changing variations in both pasture height and density with any real accuracy
without consistently resorting to alternative calibration equations as variations occur.
Simple to use, one handed operation
Automatic sampling when grounded, using an accelerometer. Simply
probe the ground.
Significantly reduced operator errors when compared with
rising plate meters.
Easy to use keypad
16 character by 2 line backlit LCD with audible 'beep' prompt.
800 individual paddock memory files.
Manual input of paddock data option (good when visual estimating a
particular paddock in order to save time)
Displays the amount (Kilograms) of dry matter per hectare with each sample taken (lbs/ac option).
Displays paddock name, number, area and date sampled (paddock names and area data can also be uploaded via computer if required)
Displays the number of samples taken.
Displays the average amount of dry matter per hectare when sampling
is completed.
Undo function to erase mistakes.
Pause function to temporarily halt sampling.
Fully waterproof and detachable indicator
Internal rechargeable NiHi battery
Full day's use from internal battery, fully
rechargeable.
Universal/USB Battery charger included: no risk of over-charging.
Low battery warning.
Auto power-off when not in use.
No data loss, even with a flat battery.
Stores multiple calibration equations. 'Machine readings' of each paddock are downloadable, meaning revised calibration equations can be applied at a later date even if wrong calibration equation was initially used.
Downloading of paddock information with USB interface.
Computer link program "GrassTrack" bundled with the instrument.
Export data (paddock names and areas) from GrassMaster Pro to GrassTrack and vice versa.
Easy recalibration for special swards.
New 'quadrat estimate' equation calibration feature allows users to
quickly derive a new calibration equation in the field should they choose to, greatly enhancing measurement accuracy when encountering situations such as seasonal changes in pasture water content (dry matter %).
Includes a download program enabling paddock data to be kept in electronic or printable hard copy for later use. Data is also exportable to spreadsheets. Download program includes a farm feed wedge feature.
Latest GrassMaster Pro version now allows for updating of hardware's operating system via the internet
SPECIFICATIONS
Batteries: Internal rechargeable Nicad, full day's use from full charge.
Charger: 230 volt input AC adaptor (120 Volt option).
Cable to computer-USB for data downloading / uploading. (Same cable accesses power pack for charging)
Measurement height and radius: Pasture to 50 cm height and to 20cm radius around probe.
Consistency of measurement (on the day) 95% plus
The GrassMaster Pro is very quick and easy to use, gives highly repeatable results, and suits any terrain and grass condition, pugging and steep sidlings included. It can be used in damp conditions using the dispersant oil-polish supplied. The DM readings can be used to find the drymatter improvement from fertiliser applications, and to log the growth rate of new and established pastures. Being a quantitative measurement (not an eye-o-meter), you can record trends over the years, and between properties. Most importantly, it lets you know without any doubt, the amount of feed ahead of your stock
SKU: GM100