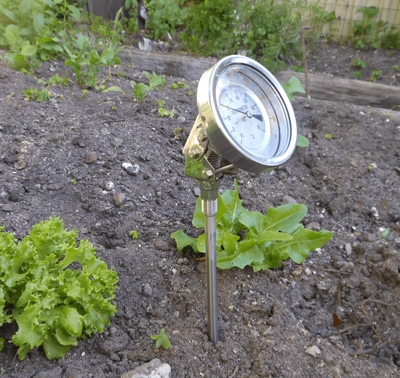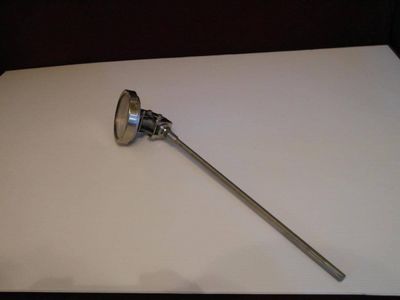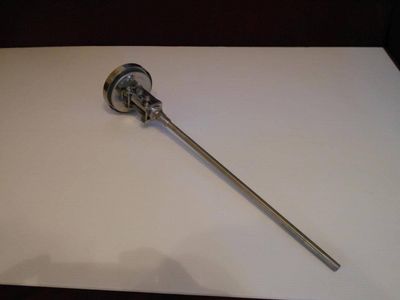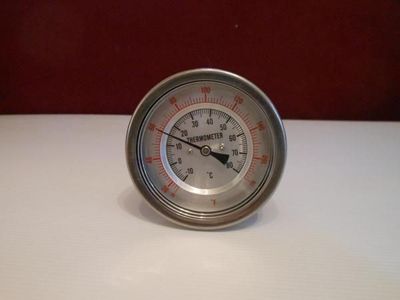 Soil Temperature Probe 300mm
$19.95
This is a 300mm long dial faced soil temperature probe that utilises the tried true and well tested bimetallic coil means of temperature measurement and at a very affordable price.
Extremely robust and very simple to use its 300mm stem length facilitates measurement of temperatures to greater depths than many other temperature probes are able making it great for monitoring not only the temperature of soils for crops and pastures, but also for monitoring temperatures of hay, silage, potting mixes, propagation beds, composting, chilling of produce and so on.
Fully mechanical action so requires no power/batteries.
Made of non-corrosive manufacturing materials making it well suited for permanent in-situ temperature monitoring.
The versatile swivel head action allows the probe dial to be read from the 'horizontal' to 'vertical' facilitating much easier reading and recording in difficult to access situations.
The guage includes an easy to adjust calibration lock nut should the reading wander due to a physical shock. NB: Probes are supplied factory calibrated although the accompanying also booklet provides calibration instructions should they be required.
| | |
| --- | --- |
| Type | bimetallic coil actuation |
| Probe dial diameter | 75mm |
| Stem length | 300mm |
| Case and stem | Stainless Steel |
| Temperature range | 10 to 80℃ (14 - 176°F) - displays both ℃ and °F |
| Accuracy | +/- 2.5%, 1.6% full scale |
| Time constant | < 40 second |

Temperature Probe comes complete with manual detailing the temperature probes use, calibration methods, and temperature - germination tables for 26 vegetable seed types and 16 cereal and forage feed seed types including notes on soil temperatures, fertilisers and pasture production.
SKU: 10000