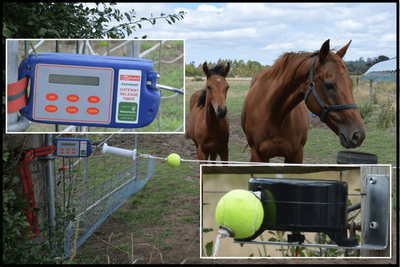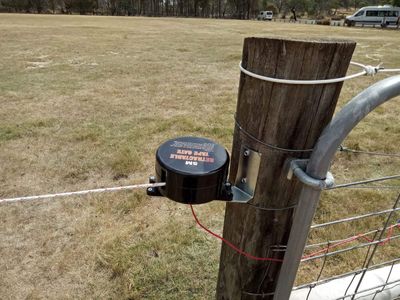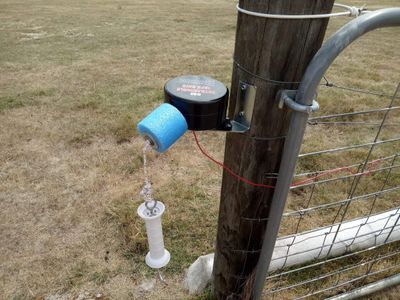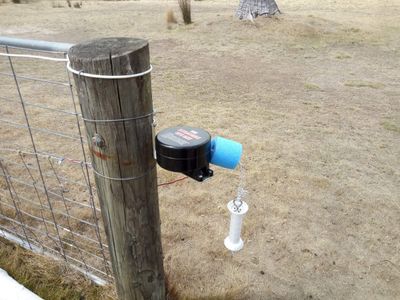 BattLatch with retractable gate kit for horses
$524.00
You-tube video 1 of BattLatch with retractable gate kit for horses
You-tube video 2 of BattLatch with retractable gate kit for horses
=============================================================

The BattLatch retractable gate kit for horses consists of the Battlatch solar powered automatic gateway release timer and a retractable poly rope and reel for use as a temporary electric fence
gateway.
The BattLatch can bepre - programmed to release the retractable polyrope for any time of any day.
At the prescribed time, the BattLatch will 'wake up' allowing the poly rope to detach from the BattLatch and safely retract into the reel allowing the horse(s) to walk on through.
For horses the recommended maximum extension of the poly rope from the retractable reel for safe and effective operation is 3 metres. This set up is suitable for an individual horse or for groups of horses.
This presents no problem since horses will always go through such an opening in the order of their pack hierarchy.
The gate kit can be adapted to all types of fence or yard situations.
The BattLatch is solar powered and highly portable for use around the property.
Great for
for situations when horses are only allowed limited feed, or require access to fresh grazing or to spread food intake over an extended period of time in order to avoid digestive congestion, ulcers and obesity.
for situations when horses need more feed, or have a different feed requirement to the rest of the herd.
Labour saving, great for when you have to be somewhere else.
Reducing stress - for both the horse and its carer.
Testimonial
(see accompanyingvideo of Serena's horses utilising the BattLatch and retractable gate kit for horses You-tube video 1 of BattLatch with retractable gate kit for horses)
Serena Middleton, horse owner from central Victoria in Australia, purchased a Batt-Latch to help control the amount of time her horses spend on grass each day.
Serena programs the Batt-Latch to let the horses into a grassy paddock in the early hours
of the morning when sugar levels in the grass are at their lowest. A few hours later, she heads down and brings the horses in again, minimising their risk of laminitis.
"The Batt-Latch has made it easy to manage the health of my horses and their risk of laminitis," said Serena. "It is super easy to set up and easy to program and eliminates the need to make multiple trips up and back to the paddock just to open a gate."
"It's particularly useful for people who keep their horses on agistment or livery and the fact that it's portable makes it brilliant for strip grazing as well. I'm tossing up buying a second one for my other paddock!"
SKU: 10001