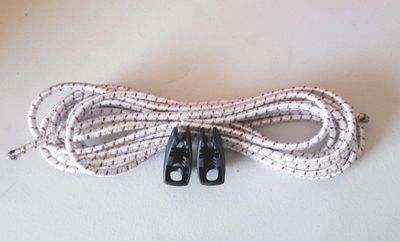 Bungy cord kit for BattLatch spring gate
$37.10
Some users of the BattLatch prefer to use an electrified bungy cord rather than the spring gate provided.
As an option, we can supply a electric bungy cord kit that will enable you to substitute the coil spring that is supplied with every standard BattLatch, with an electrifiable bungy cord of correct length and two Bungy Cord Grippers to aid its attachment.
The length of bungy cord supplied (5.8m) is suitable for gateway widths of up to 8 metres maximum (the same as for the spring). Wider gateways will require longer lengths of bungy (divide gateway width by 1.38 to find correct length of bungy cord).
NB: The bungy cord kit is only available as a separate purchase. We do not supply the BattLatch with its spring gate substituted with bungy cord.
SKU: 10000-1